Performance, Recovery and Overall Wellness
When it comes to performance and recovery, what's going on in the gut is critical. A disrupted gut can impact the wellness of our body as a whole. Many factors lead to imbalances in the microbiome, including intense training, physiological stress, disrupted sleep, and environmental extremes. Today, it's more important than ever to be proactive about gut health.
The synergistic strains in STRONG are clinically proven to help balance the gut microbiome. A balanced microbiome reduces gut-related issues such as intolerances during endurance exercise, illness, fatigue, and other physical setbacks. The result is improved gut health, overall wellness, nutrient absorption, and immune system function.
Lyvecap is formulated to strengthen your microbiome and immune system, helping the microbiome withstand shifts in gut flora during intense exercise. STRONG allows you to work harder, recover faster, and live healthier every day.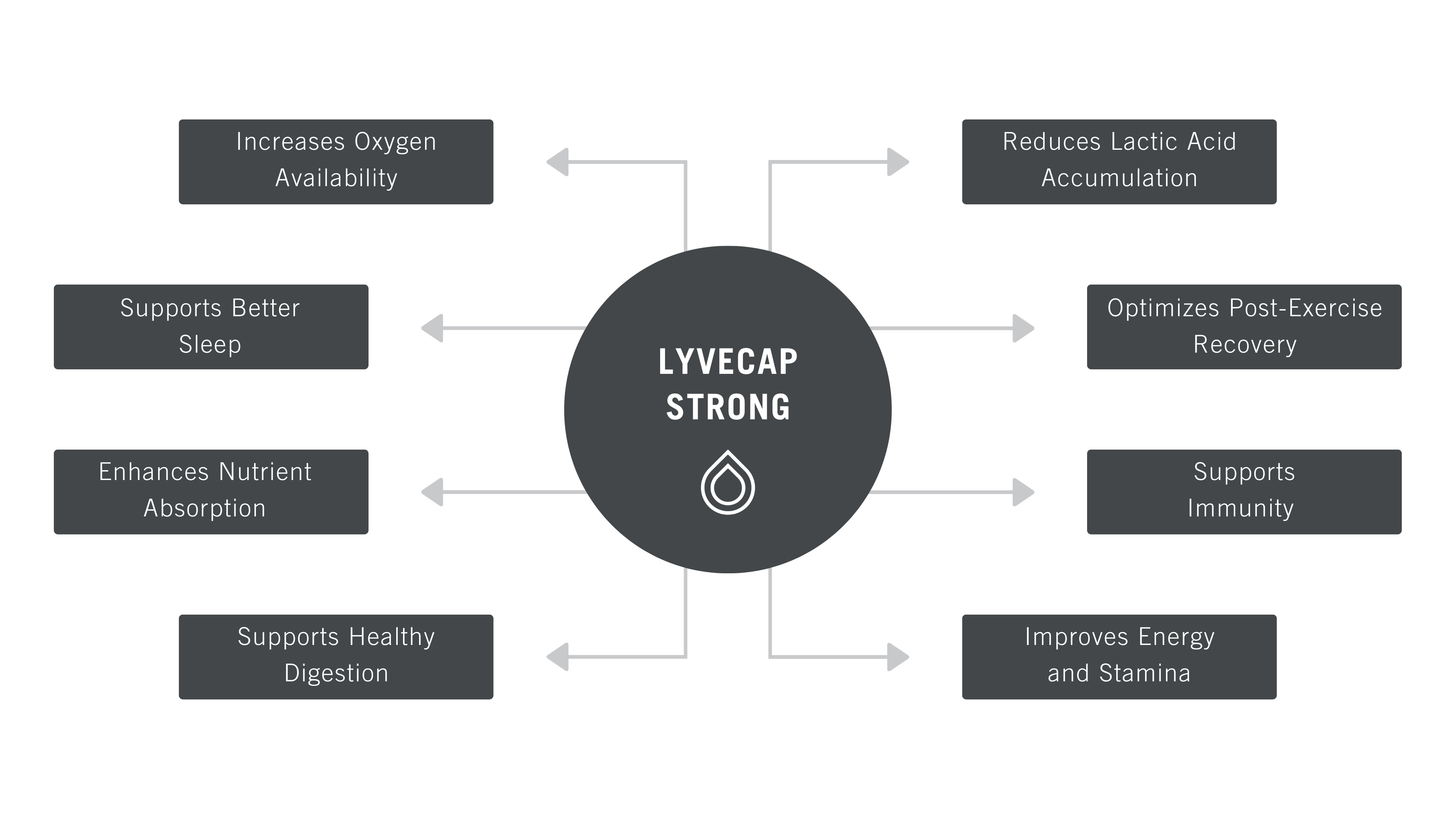 LACTIC ACID REDUCTION AND RECOVERY
Lyvecap STRONG helps reduce lactic acid in the muscles. Lactic acid reduction leads to faster recovery, allowing athletes to train at a higher frequency. During high-intensity exercise, the body uses lactate for energy. When lactate-utilizing bacteria are in the gut, they produce bioactive metabolites from lactate. This process increases cardiovascular endurance, improves energy levels, and regulates muscle metabolism.
The Impact of Oxygenation on Endurance Athletes
Oxygen changes in the gut directly influence the amount of oxygen available for the remaining body systems and other essential organs. Since the digestive system receives one-third of the cardiac output, what's going on in the gut is critical to oxygen availability in the body. This is especially important for elite athletes who place high oxygen demands on their bodies daily.
STRONG decreases oxygen usage in the gut, allowing other essential organs to receive higher oxygen uptake during intense performance. Increased oxygen availability extends the time to exhaustion leading to better performance and faster post-exercise recovery.
Backed By Science, Founded By Doctors
Dedicated to the science of gut health and leading innovation, LYVECAP goes above and beyond with a proven team invested in improving gut health for all.
CEO and Founder
Yinka Davies, MD
Yinka Davies, MD, is a Stanford-trained pediatric gastroenterologist who has been practicing for over 15 years. She is an adjunct clinical assistant professor at Stanford University School of Medicine involved in multiple clinical trials involving the human gut microbiome and how it relates to both disease and unwellness. She is passionate about educating on the importance of a balanced gut flora and demystifying the complexity of this system.
Inventor
Claudio De Simone, MD
Professor Claudio De Simone, MD, PhD, is an internationally recognized pioneer in the field of intestinal microflora and the inventor of the proprietary probiotics used as the foundation for STRONG. After specializing in gastroenterology and immunology, he became the professor of infectious diseases and immunology at the University of L'Aquila and is a member of the American College of Gastroenterology. Over 25 years ago he developed the De Simone Formulation on which he has published 70+ peer reviewed articles. Additionally, he has authored over 200 published scientific articles, reviews, case reports, and book chapters.
Advisor
Kenneth L. Cox, MD
Kenneth L. Cox, MD, is an emeritus professor of Pediatrics, Pediatric Gastroenterology, Hepatology, and Nutrition at Stanford University School of Medicine. He served as chief of the Division of Gastroenterology as well as associate chair of the Department of Pediatrics. In addition, he was the Senior Associate Dean for Pediatrics and Obstetrics at the School of Medicine, the Chief Medical Officer at the Lucile Packard Children's Hospital and the Executive Director of the Pediatric and Obstetric Faculty Practice Organization. He also served as service chief of the Gastroenterology, Nutrition, and Hepatology Clinic at Lucile Packard Children's Hospital. He has published 17 book chapters and 100+ peer-reviewed articles. His research interests include the role the gastrointestinal bacterial flora plays in autoimmune liver and intestinal disease.
Advisor
Kari Nadeau, MD
Kari Nadeau, MD, is a respected professor at Stanford University School of Medicine. Among other leadership positions at Stanford, Dr. Nadeau is the Sr. Director of Clinical Research for the Division of Hospital Medicine. Additionally, she has served as a Food and Drug Administration (FDA) consultant.

For more than 30 years, she has devoted herself to understanding how environmental and genetic factors affect the risk of developing allergies and asthma, and the molecular mechanisms underlying the diseases. As one of the nation's foremost experts in adult and pediatric allergy and asthma, her research is laying the groundwork for a variety of potential future therapies to prevent and cure allergies and asthma. To date, Dr. Nadeau has published over 200 peer-reviewed publications, and is a reviewer for NIH study sections and many high impact journals in basic science and clinical medicine.